---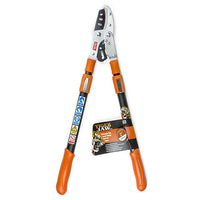 T2 TELESCOPIC ONE TOUCH HANDLE RATCHET TREE LOPPERS 
PROFESSIONAL LINE LOPPERS
2" / 50MM CUTTING CAPACITY
The T2 Tiger Jaw Telescopic One Touch Ratchet Tree Loppers are the most versatile ratcheting loppers in the Tiger Jaw line of gardening tools. With extendable handles that give you 40.5 inches of reach, you will be surprised at how easy lopping and pruning has become.
Our T2 Loppers have replaceable blades for an extended service life. They feature one touch telescopic handles that can be fully extended with just one touch, or adjusted one notch at a time. The ratcheting mechanism makes cutting branches easy. It does the work for you so you don't need to use your muscles. The orange handles make it easy to spot them in the tall grass. They can cut up to 2 inch branches and feature a hybrid bypass anvil design, allowing the branches to fit better in the jaw.
The T2 Tiger Jaw Lopper pairs well with our P3 Pruners that can cut up to 1 inch diameter limbs.
The T2 is made with quality materials, including:
High carbon heat-treated replaceable steel blade
Nylon and fiberglass handle
Ratchet design: 3 short cuts for easy pruning
Like all Tiger Jaw Tools, our T2 is guaranteed to be free of any quality related defects.
SPECIFICATIONS FOR T2 TELESCOPIC ONE TOUCH HANDLE TREE LOPPERS:
Size: 27.5 inches long
Weight: 3.5 lb 
2" / 50MM CUTTING CAPACITY
LIMITED WARRANTY
Burnell Enterprises LLC. guarantees the original purchaser that this product is free from defects in materials and workmanship. Keep your proof of purchase reciept and Burnell Enterprises LLC. will repair or replace, free of charge, any part or tool that is found to be defective for ONE YEAR when accompanied by proof of purchase. Normal wear and tear and/or damage caused through misuse and/or accidents are not covered. Shipping and handling charges to return the item to Burnell Enterprises LLC. are at the consumer's expense.
LIFETIME 1/2 PRICE TRADE-IN PROGRAM
You may replace your used tool for a new tool at 1/2 Price of the current retail price plus shipping and processing. The Lifetime 1/2 Price Trade-in Program applies only to the same tool to be exchanged. If the tool only needs replacement blade, you can purchase blades plus shipping and handling charges for any lopper model or you can send lopper to Burnell Enterprises LLC. and for 25% of the current retail price, we will replace the blade for you and ship it back.
Limited warranty only valid in the United States, Alaska, Hawaii, Puerto Rico and U.S. Virgin Islands. Warranty does not cover broken blades.
© Copyright 2023. All rights reserved.