---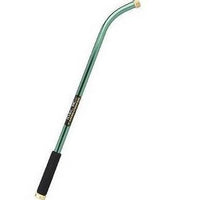 Ultimate Gardening Wand -Ready, aim, spray! That's all it takes to tackle routine household chores and hard-to reach areas like flower beds, windows, and hanging baskets with this multipurpose watering wand. The Ultimate Watering Wand has a curved neck, comfort grip and fits any standard hose. Made of aluminum construction with brass fittings.
Wand: curved neck; comfort grips fit any standard hose; anodized aluminum construction with brass fittings
Wand measures 24-1/2″L
The 24-1/2″ extension wand is ideal for serious cleaning projects or directing a powerful stream of water at long-distance tasks.
The Ultimate Hose Nozzle fits perfectly on the wand. It also includes a thumb action turn off valve that fits onto the garden hose connections. Available in green. 
Weight 1 lbs
Dimensions 4 × 3 × 26 in